I'm loving finding new foods to eat with my new way of eating. Week before last I received my Superfood Cuisine book by Julie Morris.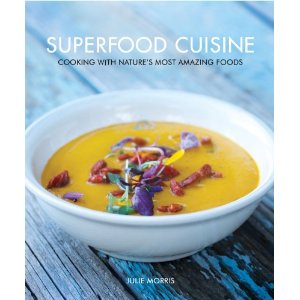 One of the recipes in there is the Lemon-Coconut Breakfast Bars recipe. Holy Toledo! Those are sooooo delish! I'm eating one warm out of the oven right now! You could just die at the yumminess!!!!
You can find the recipe
here
but I'll also post it below because you'll want to get to making them ASAP and you don't want to have to click on a link just to do that!
Lemon Coconut Breakfast Bars
Make a double batch of these bars and refrigerate to have on hand all week.
2 Tbsp coconut oil, melted
1/2 tsp baking powder (oops, I used baking soda)
3/4 cup + 2 Tbsp shredded dried coconut, divided
2 Tbsp lemon zest
2 Tbsp applesauce
1/4 cup agave nectar
1/2 cup packed medjool dates, pitted

Preheat the oven to 300 degrees. Grease a 8x8" baking pan.

In a small bowl, combine the lemon juice and chia seeds. Set aside for 20 minutes.

Meanwhile, in a medium bowl mix together the oat flour, baking powder, salt, and ¾ cup coconut flakes. Sprinkle in the lemon zest and mix again until distributed.

In a separate bowl, combine the coconut oil, apple sauce, and agave nectar. Mix in the soaked chia seeds. Chop the pitted medjool dates finely, and mix in with the other wet ingredients.

Pour the wet ingredients into the dry, and stir until blended. Spread the mixture into the prepared baking pan, and use a spatula to flatten out the surface. Sprinkle remaining 2 Tbsp coconut on top, patting them down lightly into the mixture.

Bake for 25-28 minutes, until edges begin to turn golden brown. Cut while warm into squares. Makes 16 2"x2" squares.
I actually wrote this post last week but didn't finish it and so I'm posting it now. Just as a warning, if you make the above recipe beware! They are VERY good! I think I basically ate them all in about 2 days! HA! Impressive!
This brings me to another point that I've recently learned on my journey into a plant-based diet. Eating high sugar foods at night isn't good really. I was feeling so much better the first 2-3 weeks but then last week my body started feeling not as good to me but I realized two things. First, I was eating way more sweets (healthy sweets but sweets nonetheless) than I had the previous weeks. And second, I wasn't eating as many vegetables as in the previous weeks. So this week I'm bringing the veggies back. The biggest reason for that is that I really notice a difference in my thirst if I do or don't eat veggies. The more veggies I eat the more I get my water from my veggies and the less thirsty I am. Fascinating!
I'm really enjoying my new way of eating. Yes, it's been challenging but I'm just finding my way and learning some great recipes and eating some really tasty food. These are the vegan recipes that I have made in the past 4-5 weeks:
Superfood Cuisine and other Julie Morris Recipes:
No-Bake Brownies (online)
Lemon Coconut Breakfast Bars (online)
Mini-Chocolate Cupcakes (online)
Black Bean Hemp Patties (Superfood Cuisine)
Roasted Pumpkin Soup (Superfood Cuisine)
Cauliflower Risotto (Superfood Cuisine)
Smoothies - Clean Start and Protein Packed (
The Smoothment at navitasnaturals.com
)
Thrive Foods by Brendan Brazier:
Quinoa Falafels
Beet and Fennel with Belgian Endive salad
Hemp and Sunflower Seed Milk
Lentil Soup with Wilted Spinach
Blueberry Chia Pudding
Summer Squash Fettucini with Lemon Pepper Cream
Live Avocado Goddess Sauce
Salt and Vinegar Kale Chips
Thrive by Brendan Brazier
:
Spicy Black-Eyed Pea Quinoa Pizza
Baked Apple Cinnamon Cereal
Hemp Milk
Chocolate Almond Smoothie (I think I've had this about 10 times actually)
Lemon-Lime Recovery Drink
Direct Fuel Bites
Garlic Oregano Yam Oven Fries...mmmmmmmmmmmm...so tasty!
Banana Ginger Pear Cereal
Ginger Pear Smoothie
Blueberry Rooibos Antioxidant Smoothie
Mango Coconut Energy Bars - boo! These sounded so great but turned out so NOT great!
Other
:
Endurance Crackers
from
ohsheglows.com
Super Simple Kale Salad
Well, when I list them out like that I realize I've really been making a lot of things. No WONDER my kitchen is ALWAYS a mess! I think that about covers it for recipes but I have thrown a lot of things together. I basically keep kale and spinach on hand at all times. I can't wait for summer to come so I can make my Crunch A Munch Salad. Oh yeah...it's so delicious and so summery!
I have many more items on my list that I want to make including but not limited to:
Energy Bars - there are a few that I want to make like Walnut Cranberry and also Chocolate Blueberry
Smoothies - Green and this Pineapple Kale one I found the other day
I have bought a lot of hemp seeds, nuts and veggies in the past month or so. I've also bought a few books and many "different" superfood type of foods like maca, mesquite powder, cacao butter, lucuma powder, chia, and amaranth. I've also bought a lot of other things that I want to have on hand like shredded and flaked coconut, palm sugar, agave, and dates, dates and more dates!!
I've learned a lot, shopped a lot and cooked a lot. I'm enjoying the process and that's huge for me! Very important to love what you're doing and eat in a way that works for you. For me, this is the way that works for now. I feel better than I have in a long time and while I may not be seeing big changes I'm seeing changes and feeling better. I've definitely noticed that my allergies seem much less than usual and I don't wake up stuffed up like I do often when I was eating meat products and dairy. It may or may not be coincidence. Time will tell.
One thing I have learned for sure is that I don't like flax seed or flaxseed meal. I can handle it in small doses but usually if the recipe calls for flax seed I'll substitute chia. I found somewhere on line that you can do that but use 1/2 to 1/3 the amount called for in the recipe (i.e. 2 tablespoons flax seed = 1 tablespoon chia). That's been a good swap for me. And because chia has no flavor I can handle that a lot more than the flax. In fact I want to make the Mango Coconut Energy Bars again but make them with chia instead of flax. I am almost positive that I will like them that way. The flax is incredibly overwhelming in that recipe and it's all I could taste! Yuck!
I will try to get on here more often to share more recipes with all of you. I think the thing I like most about this kind of cooking is that a lot of it seems to involve smashing things up in bowls with your hands and I LOVE that. Talk about getting dirty in the kitchen! It's GREAT!
I'll leave you with this beautiful photo from my day trip to Santa Barbara last weekend. It was so pretty and relaxing. I'm so fortunate to live close to the ocean. It's sooooo therapeutic for me! Have a great weekend!
Santa Barbara Coastline